Exhibitor List
DORNER (M) Sdn Bhd / Flex Move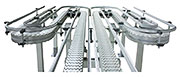 Dedicated to high quality, innovative designs and comprehensive conveyor platforms, we deliver products equipped to accommodate virtually any material handling application and provide efficient solutions for a wide range of manufacturing industries by offering a variety of options with unique and flexible features.
Company Name: DORNER (M) Sdn Bhd / Flex Move
Stand No.: E32
Country: MALAYSIA

For all your conveyor needs, Dorner have you covered. We offer a variety of options to provide efficient solutions and futher help on your business transport. As preferred suppliers for many companies across the globe, be assured we have the experience to deliver to your requirements.
No.128, Jalan Permatang Damar Laut, 11960
Bayan Lepas, Penang Malaysia
Tel : +60 4 626 2948
Fax : +60 4 626 2871
E-mail : [email protected]
Website : www.dornerconveyors.com